Now comes the turn to share some Honda Motorcycle Memes 😉 Make sure you've already checked out our previously shared motorcycle memes, such as our post about 43 Strange Motorcycle Riding Memes that came just before this one. The Indian Motorcycle Memes aren't bad either, check those out as well. 😎
Check out these Amusing Honda Motorcycle Memes
This one probably is the lowest number of memes we've shared so far on this site, so make sure to share yours too in the comments 😊 These are less than usual because we couldn't find more memes about honda motorcycles.
OK, we're getting started with some colorful language already, huh! 😅
LOL 🤣
Guess which one's Honda? 😅
We have another Honda in the house 😁
I thought it was a technique or something to be able to ride faster in races so the air doesn't stop you and you lose the race by a fraction of the second! 😲
Yeah. That's the only way you can get more torque than a Honda! 😎
Don't touch my Honda, man! 😠
🤣
The Honda I used to ride back in the day 😅
🤣😂😅
Hmmm 🤔
True that! 😉
Let's hear it for Obese Honda Riders 😅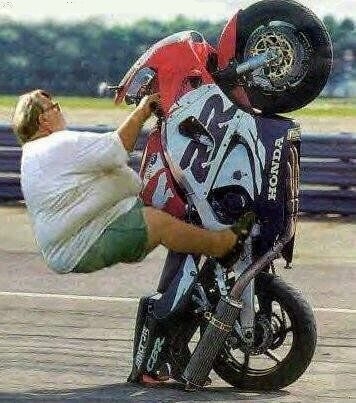 I thought it was a Honda rider 😀
A colorful Honda 😉 🌈
A 1000CC Honda 🤣
Share yours with us
As mentioned earlier, and you've probably noticed as well that these are less memes than we usually post, but that's because we only found and shared relevant memes only related to honda, otherwise if we share non-related memes too, the number can easily reach 100. But feel free to share if you have some unique honda bike memes too. Finally, do not forget to check out our next post about victory motorcycle memes.
Recent Content
link to 43 Strange Motorcycle Riding Memes
Today we've got a fresh series of motorcycle riding memes to share with you that we think you'll enjoy and get a good laugh or two. Previously we shared with you some 21 indian motorcycle memes that...
link to 21 Hilarious Indian Motorcycle Memes
This time, we went ahead and crawled the Internet for those hilarious indian motorcycle memes! 🤣 Because sometimes the Indian memes can surpass almost every other kind of meme on the internet in...